May Monthly Meeting
Author Bob Moody was the guest presenter for the May 24th Orange County Historical Society meeting held at the Paoli Library. Bob held attendees fairly spellbound while sharing the strange story and tragic death of Professor Wilbur at the Orange County Fair in 1871. Bob also presented some new interesting and informative research about events leading up to that tragedy and beyond.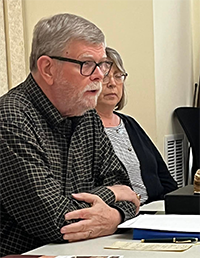 ---
Orange County Historical Society Meeting - May 24th
Special Guest - Author Bob Moody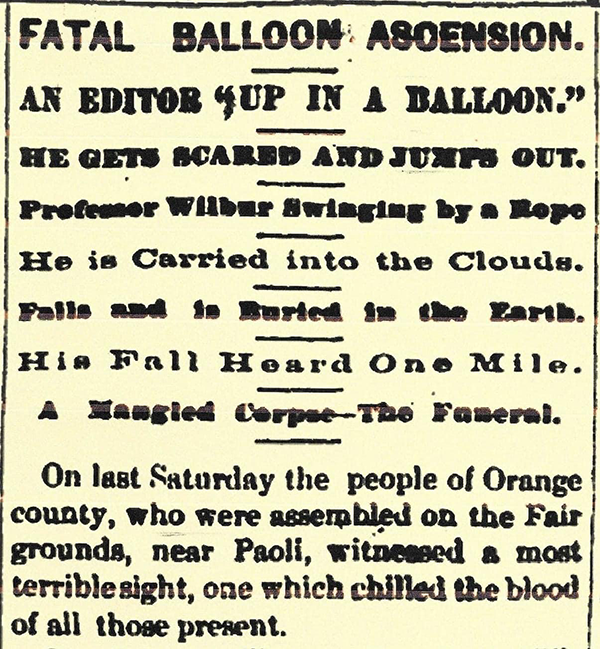 The Orange County Historical Society (OCHS) will meet for its next regular monthly meeting on Tuesday, May 24th 7 p.m. at the Paoli Public Library. Author Bob Moody will be presenting a program on the 1871 strange and sad fate of "Professor R.H. Wilbur." The event once again placed Orange County in the National Spotlight. The public is welcome to attend.
---
Orange County Historical Society To Host IHS's Traveling Exhibit Faces of the Civil War
Civil War history will come alive for visitors who experience Faces of the Civil War, an Indiana Historical Society (IHS) traveling exhibit. From May 25th through June 22nd, Orange County Historical Society (OCHS) will host the special exhibit at the Paoli Public Library, located at 100 W. Water Street in Paoli.
Society President Robert F. Henderson said the exhibit brings to life the stories of many Hoosiers whose lives were touched, and in some cases taken, by the Civil War. "Not all are well known or revered—many were just everyday citizens fulfilling their duties to their friends, family, state and country," He added. Rather than focusing on statistics and large-scale battles, the exhibit illustrates how regular people coped with the tragic experiences of the day—all from an Indiana perspective.
"We certainly appreciate our partnership with the Paoli Library and staff and their wiliness to allow us to display this interesting and informative exhibit." Henderson said.
About IHS Traveling Exhibitions
Historical societies, museums, libraries, schools and other nonprofit organizations in Indiana can book this and other traveling exhibits through IHS's Local History Services department. Exhibits may be borrowed for approximately four to five weeks at a time. To book an exhibit, please contact Karen DePauw at This email address is being protected from spambots. You need JavaScript enabled to view it. or (317) 233-3110. For more information about the traveling exhibit program, visit www.indianahistory.org.
About the Indiana Historical Society
Since 1830, the Indiana Historical Society has been Indiana's Storyteller™, connecting people to the past by collecting, preserving and sharing the state's history. A private, nonprofit membership organization, IHS maintains the nation's premier research library and archives on the history of Indiana and the Old Northwest and presents a unique set of visitor experiences called the Indiana Experience. IHS also provides support and assistance to local museums and historical groups; publishes books and periodicals; sponsors teacher workshops; produces and hosts art exhibitions, museum theater and outside performance groups; and provides youth, adult and family programs. IHS is a Smithsonian Affiliate and a member of the International Coalition of Sites of Conscience.
---

Old-Fashioned Holiday Event at The Historic Lindley House

The Orange County Historical Society will once again play host to an old-fashioned holiday event at the historic Lindley House in Paoli this coming Sunday, December 5th 2021 from 2 to 4 pm.
The nearly 170-year-old farmhouse will be decorated downstairs in part to reflect a simple 1860s Christmas past and will be open for informal touring. Robert Henderson, president of the Orange County Historical Society, said volunteers will be present to share information related to the house. The musical group "Wildflowers & Weeds" will perform period music in the front parlor of the house that afternoon as well.
Hot Cider and cookies will be served.
No admission will be charged; however, donations will be accepted to help maintain the historic home site.
Due to the lack of ability to adequately social distance masks are recommended inside the historic farmhouse.
The house was the home of Thomas Elwood Lindley, an early Orange County settler and is located just off Hwy. 150 West on Willow Creek Rd. in Paoli.
---
Join us for Living History Day - July 10th 2021

---
Celebrating the Generosity of a Benefactor with a Red Bud Tree

A few years ago now the OCHS planted and dedicated this Red Bud at the historic Lindley House to the memory our friend and benefactor the late Mildred "Mid" Hoke (1915-2006). Mid generously remembered the O.C. Historical Society in her will and her "gift" lives on today in helping us to preserve our rich Orange County history at the Museum and through our many activities throughout the year.
As the tree blooms at the old farmhouse this Spring we are reminded of Mid's example she left for all of us.
Do you know that the OCHS has two Endowment Funds set up through the Orange County Community Foundation?
A gift to one of the OCHS Endowment Funds is a gift to the future, as it provides funding for the Society's work each and every year...forever.
We accept a number of types of gifts, including cash or check. But you could also like our friend Mid and remember us in your will with a bequest to our endowment or provide us with other forms of planned giving.